Free Suitability Check
We check to make sure your picture meets the requirements. Guaranteed.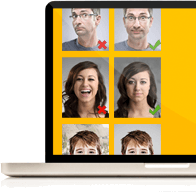 If you need a biometric passport picture, we check your photo before printing to make sure it meets all the necessary requirements. If your picture needs adjustments, we will just make them for you. If your picture is not suitable, we'll get in touch.
What happens if it is not suitable, you ask? Don't worry - you can easily upload a new photo. We'll then check the new photo again. This guarantees that all the requirements for your image are met!
That's not all!